Launch or delay? Wrestling with your deadline.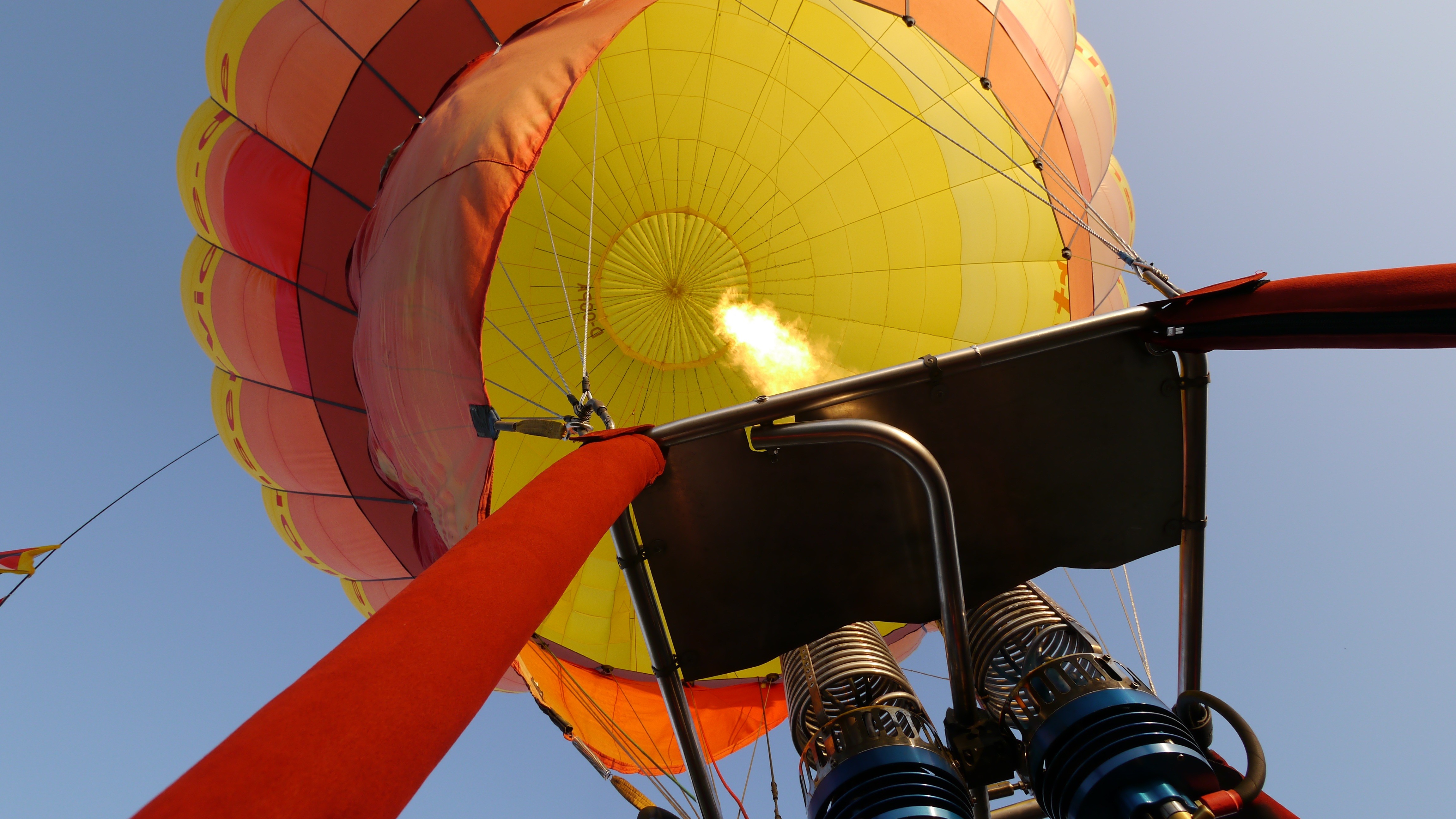 When is your book done? Does it seem like you've been tinkering with it forever or is it good enough to publish? I know many authors who have been sorry they rushed through the process and others who have spent far too long tinkering with their book.
Editing and design are the two most important investments you can make in your book and your career as a professional author. Lots of authors get great editing and then hesitate to publish, rewriting, inserting typos and delaying publication yet again. Other authors don't even bother with editing, or use their friends and family, even if they're not familiar with the genre.
Here's the question. How done does your book have to be? Typos are bad, but genre books are often riddled with typos, and their readers don't care much. Here's a shocker. My friend Derek Murphy believes that if you're writing genre fiction you just need to make sure the story's good and you don't have to spend a lot on professional editing. Derek writes genre fiction and knows how much he can get away with, and he works in the industry as an editor and designer, so I value his opinion. (You'll find a video of Derek in the Editing & Proofreading course.)
But that's genre fiction. Literary fiction has to be near-perfect to gain credibility. Ditto for business books and memoir. Oftentimes, books on programming, technology, and mechanics, especially how-to books, enjoy a more forgiving audience who just need the information.
Again, in the the lesson on Editing & Proofreading, there's a lot more information on the different kinds of editing, where to find it, how to work with editors, and how much they cost. Now, let's turn to the calendar, and how events may affect your publication date.
Your publishing timeline
Are you rushing to publish by the Christmas holidays? Valentine's Day? Columbus Day? One of my clients wanted to publish in time for Black History Month but instead of putting out a sloppily edited book she decided to wait a year. This decision relieved a lot of her stress and is enabling her to build her platform, beta publish, cultivate readers, publish well, and relax. It also give her time to work on the second book in the series.
Every September, I get a horde of queries from authors who want their book to hit the marketplace for the holiday season. In January, authors want their Romance novel to hit the shelves by Valentine's Day. This is not easily done in a month or two, or even three. I recommend a six month lead time. (See the post by Amy Collins, below.)
There are a lot of things you can do to build excitement for your book far in advance, such as preorders, which you can set up to a year in advance, though I'd recommend only a couple of months, at least for print
What you can do now
Start now to cultivate relationships with bloggers and include a blog tour on your launch. Facebook and Amazon ads can work well for holiday-themed books, and you can set your budget for just a few dollars a day.
Create a calendar
I like scribbling on a perpetual calendar to start figuring out my planning process. You can click to view and print out a few copies (or use your own calendar, or use an interactive online calendar or another kind of printable calendar).
The Concept of a Minimum Viable Product (MVP)
Here's a 42-minute excerpt of a conversation with Kevin Tumlinson and me on his Wordslinger's podcast episode. We discuss writing, the traveling life, self-publishing, and the concept of a "Minimum Viable Product" for books. The term MVP is used a lot in software and manufacturing, where they release a product to a select set of users and rely on their feedback to perfect the product.
That sounds an awful lot like beta publishing to me! It's definitely an entrepreneural way of thinking about publishing. What do you think? I'd love to hear your thoughts in the comments, below.
We talk about the San Francisco Writers Conference self-publishing track, travel, travel writing, tech writing, publishing, and the importance of conferences in this wide-ranging conversation.
What's next?
So what's next? First, step back and evaluate your publishing plan. Do you have a viable book? Is it ready for beta readers but not for prime time? Is it ready for prime time but you're nervously delaying publication?
If you don't have a publishing plan, this is the time to start sketching out a publication timeline, culminating in a three to six month book launch.
---
I don't want to overwhelm you, but before you start your book launch, you'll need to have created a keyword-rich book description (aka snappy synopsis, author bio, and obtain reviews. And to get reviews you'll need to have sent out ARCs (advance review copies). Before sending ARCs you'll have to have your book copy edited and formatted so you can send it to reviewers in ebook or print format, perhaps using BookFunnel or Instafreebie. (See reviews of these and other products in the consumer's guide you downloaded in the Resources lesson.)
Final proofreading can wait for later until you get a print proof. But don't worry about all that now.
So make sure to make time for all that.
I know all these activities can seem overwhelming but, like anything that is new to you, it will become easier and more familiar over time. So please don't worry. It'll all start to make sense very soon.
Next, I want to discuss the importance of choosing the right tools and services, with examples of tools I like to use.

Exercise
Okay, let's do this now so you can begin your task checklist and timeline. Please don't skip this part. I don't know about you, but I find lists to be very helpful in getting things done. So start now. I have other lists for you in future lessons that get more granular. (If you haven't already downloaded it, you can find this worksheet in the Resources "course" included in this bundle.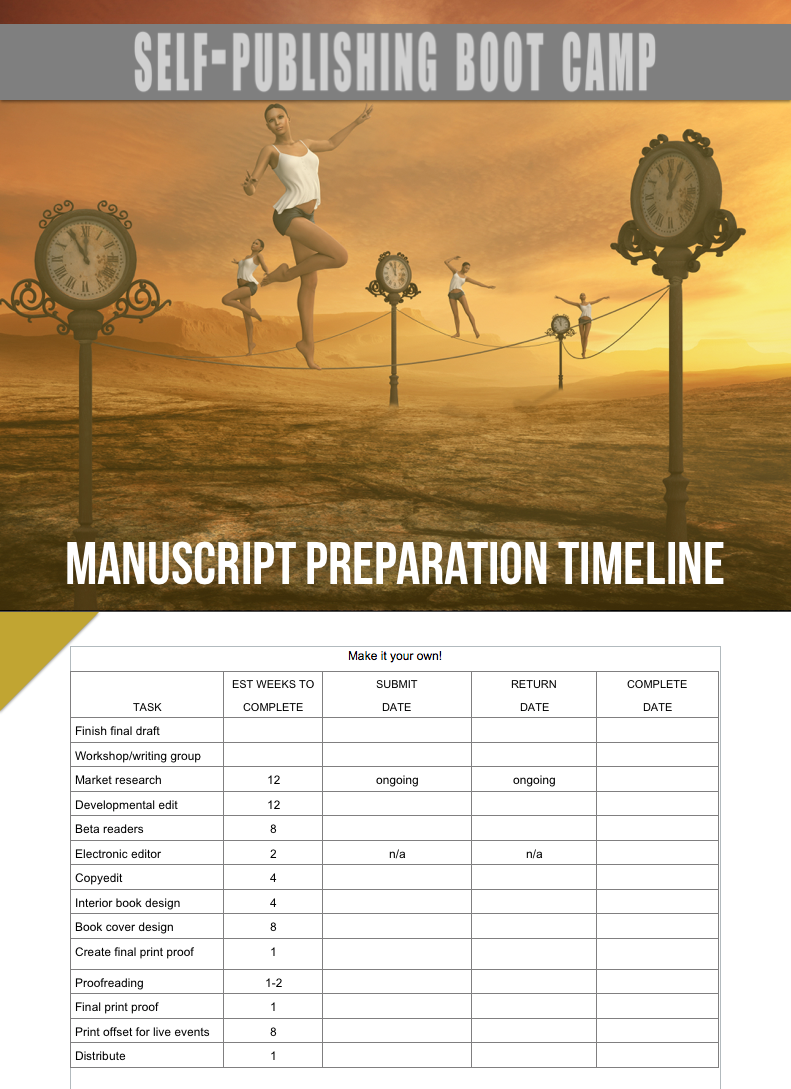 Coaching
Overwhelmed? I provide twice-monthly coaching calls for free in the price of this course, and for the hundreds of authors who have taken this course, that's usually enough. I've also formed a private Facebook group where you can get access to me and other authors in the course.
If you need more personalized coaching please contact me and I'll see if I can help with that.