ABOUT THE COURSE

You have a lot of choices when it comes to book distribution. You can upload your book into each of the online stores, one by one, or use a service to handle it for you. Some of the book distribution services also help you create your book but, as you learned in the Make Your Book course, they don't all give you professional results. So after you've made your book, how do you get it into stores?
This course will show you how to reach the stores where your readers shop. Specifically, you'll learn:
The difference between book distribution, ebook aggregation, and direct sales.
Why you should upload your book directly to Amazon using CreateSpace and KDP.
The reasons IngramSpark is a great service for print distribution, including hardbacks.
The advantages of using ebook aggregators like Smashwords, Draft2Digital, StreetLib, Scribl, and PublishDrive
Reasons you might want to upload your book directly to online retailer's stores like Amazon, B&N Press, Apple iBooks, Kobo Writing Life, and Google Play.
About vanity press distribution services and how to resist their tempting marketing campaigns.
How to get traditional style distribution with hybrid publishers, book packagers, and book producers.
Why you should constantly experiment with book distribution.
You'll also find links to worksheets, audio, and video by me and other experts who have valuable advice and examples. The self-publishing community is wise and generous. Welcome to the community of experts!
GET THE 6 COURSE BUNDLE
Distribute Your Book to Stores and Online Retailers is the fourth course in the Self-Publishing Boot Camp series of six courses.
The courses are, in order:
The Self-Publishing Freedom Course
Set Up Your Publishing Business
Design and Format Your Book
Distribute Your Book to Stores and Online Retailers
Getting the Word Out with PR and Marketing
Sell Your Book Direct for More Profit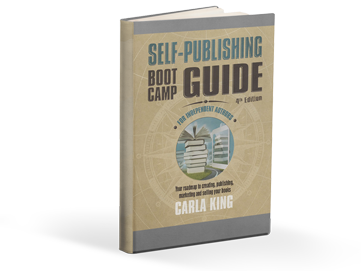 Benefits of the bundle:
Lifetime membership in all the courses and additional courses
The Self-Publishing Boot Camp Guide for Authors, 4th Edition in print
Handy worksheets and cheat sheets
Membership in a private Facebook group
Your questions answered in regular live webinars and Q&A sessions
CHECK OUT THE BUNDLE or enroll in the single course.