ENROLL IN THE SINGLE COURSE OR GET THE 6-COURSE BUNDLE
The Create Your Publishing Business course is the second course in the Self-Publishing Boot Camp series of six courses.
The courses are, in order:
The Self-Publishing Freedom Course
Set Up Your Publishing Business
Design and Format Your Book
Distribute Your Book
Sell Your Book Direct
Book PR and Marketing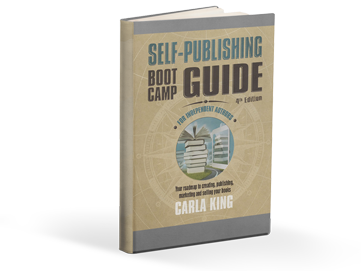 Benefits of the bundle:
Lifetime membership in all the courses and additional courses
The Self-Publishing Boot Camp Guide for Authors, 4th Edition in print
Handy worksheets and cheat sheets
Membership in a private Facebook group
Your questions answered in regular live webinars and Q&A sessions
CHECK OUT THE BUNDLE or enroll in the single course.
ABOUT THE COURSE
Creating a business plan, researching the marketplace, and getting your business in order—taxes, legal matters, and copyright—will help you create a viable business from the start.
You'll learn how to create a basic business plan, compare your goals with market research that proves you have a good shot at meeting those goals, outline a sales strategy, and make sure your book shows up in the all the right book systems so that bookstores, libraries, and customers, can find it.
Get into the independent publishing mindset. Start out right or start over and become a professional not an amateur. So many authors make money from their writing and publishing. Why not you?